OUR MISSION
MAKE THE BEST SOCKS EVER
This is a story all about how
We Socked the world
Get ready—this tale goes way back.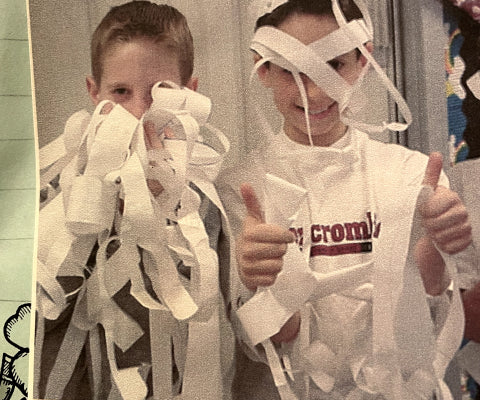 1990
WHERE IT ALL BEGAN
We, Jake Director and Riley Goodman (pictured left to right), were born six hours apart in the same hospital and grew up just a few doors down from each other, becoming childhood best friends.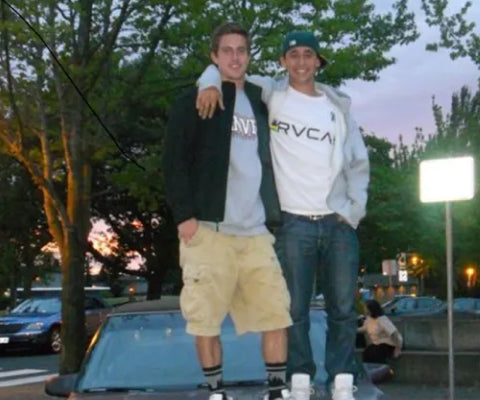 2009
Buick Regal Money
As seniors in high school, we pooled together $700, found a sock supplier in Instanbul, and convinced our lacrosse coach (thanks Coach Fortier!) to give us his '89 Buick to set up shop.
2010
605 Feet and climbing
One year after we started, we got our Seattle skyline socks into our first retail store.
2011
This was a big year for us
Here's the highlight reel:
⚫ Sole-searching in Asia to unlock the secrets of socks
🔴 Expanding our first sock offerings to six additional cities
⚫ Receiving our first 6-figure PO from LIDS
🔴 Ranking as the #1 selling sock at Nordstroms for the holiday season
⚫ Securing national distribution at Costco
🔴 And last but not least, dropping out of college
2011
GOING BEAST MODE
First Ballot HOFer Marshawn Lynch wore our skyline socks against the Atlanta Falcons, choosing to pay the $10,000 fine for wearing a brand name during a game. Simply because he wanted to wear them. Needless to say he became an official brand ambassador.
2012
SOCK GAME TIGHT
We locked in our first sports licensing deal. Snoop's dogs in our socks made it on the 'gram. Before we knew it, Justin Bieber, Ellen DeGeneres, Rick Ross and others stepped their sock game up with us.
2016
made it to the league
We inked official licensing deals with NFLPA and MLBPA, as well as MLS and 300+ NCAA properties. We also launched our pocket socks!
2019
Gotta put a stamp on it
Strideline Custom became the largest supplier of custom socks by volume in the US with key clients including UPS, Amazon, Samsung, and hundreds of other corporations.
2022
VICTORY LAPS
14 years, 15 major design revisions and 1 capital raise later, we've sold over 20 million pairs of socks. While a lot has changed, so much has stayed the same.
Thank you for playing your part in the Strideline story